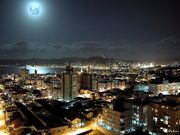 Lisbon (Lisboa) is the capital of Portugal. It is located on one of the sides of the Tagus River (Rio Tejo, in portuguese).
There are a lot of theories about the name, including origin from the Phoenicians, the Greeks, the Visigoths and the Muslims:
"Olisipone" a name from a Greek legend, in which Ulysses founded Lisbon and gave it that name;
"Olissipona" as "Olisipone" mixed with Latin;
"Oliosipon" by Ptolemy;
"Ulishbona" by the Visigoths;
and "Al-Lixbûnâ" or "Al-Ushbuna" by the Muslims (Mozarabes).
Song : La vai Lisboa.
Redaction 5/13